The Infinite Campus Parent Portal provides parents and guardians with a host of information about their children and their academics. We have collected frequently asked questions (FAQs) and provided answers below. If you have any other questions that are not answered here, please send them to us via the Infinite Campus Portal Support Form.
Q: What is Infinite Campus? Why would I use it?
A: Infinite Campus is the student information system in use by District 207. Student information, schedules, grades, attendance, and more are managed in the system. The Parent Portal is a password-protected website that allows you to view information about your child online.
Q: How do I log into the Parent Portal?
A: Go to the Campus Parent Login page. The link is also available from the Parent Dashboard of each District 207 School. Parents and guardians receive a username and temporary password via email. Once logged in, you can switch between tools of the Parent Portal using the "hamburger" menu button at the top left of the page.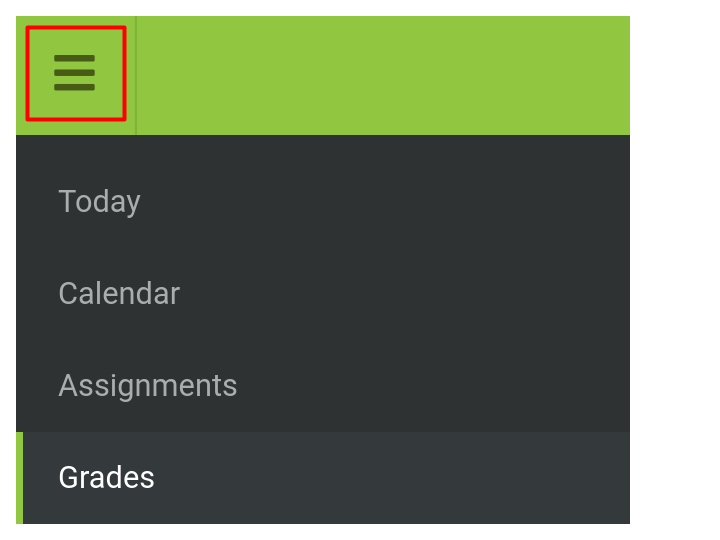 Use this same hamburger menu button to show and hide the menu.
For other questions about your Parent Portal login, please see the Parent Portal Login and Security FAQ.
Q: Why is the portal asking me for an email and password after I log in?
A: If you forget your password, you will be able to click "Forgot Password?" and Campus Parent will send you an email to reset it. This is why you must provide an account security email. When you log in to Campus Parent for the first time, you will be asked to enter an account security email, as seen below: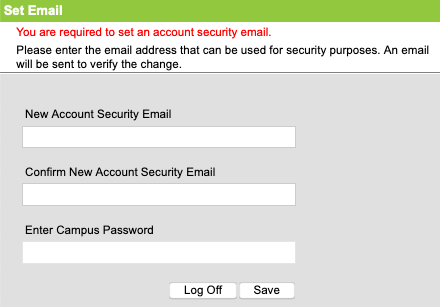 Enter your email address and current password and click Save. You will receive an email similar to the one below with this information, requesting you to click on a link to verify your email address. You MUST click on this link:

Click on the link, or copy and paste the URL into your browser, to verify your security email. Once verified, you will be able to use the Forgot Password? and Forgot Username? if you forget your password or username.
For other questions about your Parent Portal login, please see the Parent Portal Login and Security FAQ.
Q: I am having trouble logging into the Parent Portal. How do I get help?
A: Please see the Parent Portal Login and Security FAQ.
Q: How do I find my child (or switch between my children) in Infinite Campus?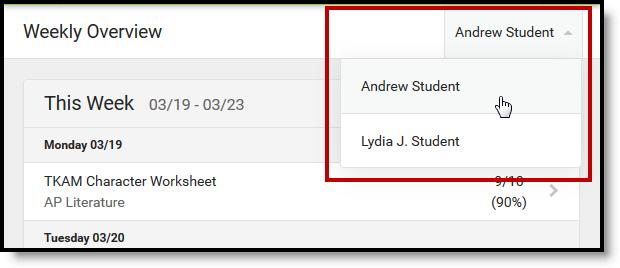 A: If a tool is specific to a single student, such as Grades or Schedule, a student dropdown list displays in the top right corner. Use this list to switch between your children. This dropdown list does not display for tools that are not student specific like Announcements and More.
Q: Where do I find my child's schedule?
A: The Schedule tool shows the student's schedule for each term. Schedules are shown for the whole year, all terms, and all of the student's enrollments. Each schedule includes the times of the periods during the day and the student's courses, with the teacher's name and room assigned. Scroll down to see all days of the schedule. A printable schedule report is available in the Documents tool. Please note: Adjusted times for days with alternate bell schedules may not show in the Parent Portal.
Q: How do I contact my child's teachers?
A: When viewing your child's schedule, click on the name of a class to view the details for that class. The teacher's name and email address, and your child's Counselor's name and email address, will be displayed in the class details. Copy and paste an email address into a new message in your email client, or click on an email address if you have a default email client configured on your device.
Q: Where do I find attendance information?
A: The Attendance tool lists the absences and tardies in the selected term. Navigate between terms using the options at the top. You may see higher attendance totals for a class than expected. These totals are by period, not class. Absences for classes spanning multiple periods, like 3A and 3B, would count for two period absences per class absence. Click on a class to view details. On the detail view, absences and tardies are divided by type (excused, unexcused, exempt, or unknown), with all absences and tardies listed below. In the case of classes that span periods, you would see two absences or tardies in the same day.
Q: Where do I find my child's assignment grades? Where can I find missing assignments?
A: The Assignments tool collects all of a student's assignments with the focus on today. Click assignments to view details and scroll to see previous and future assignments. Use the Missing and Current Term buttons at the top to filter assignments.
Q: Where do I find my course child's grades?
A: The Grades tool shows all of the grades earned by the selected student for all tasks (such as Semester grades) and standards. Posted grades are displayed in bold, with In-Progress grades indicated as "In-progress." Grades will generally be found in Q2 and Q4. Only quarter-length classes would have grades displayed in Q1 and Q3. Use the arrows at the top right to switch between terms.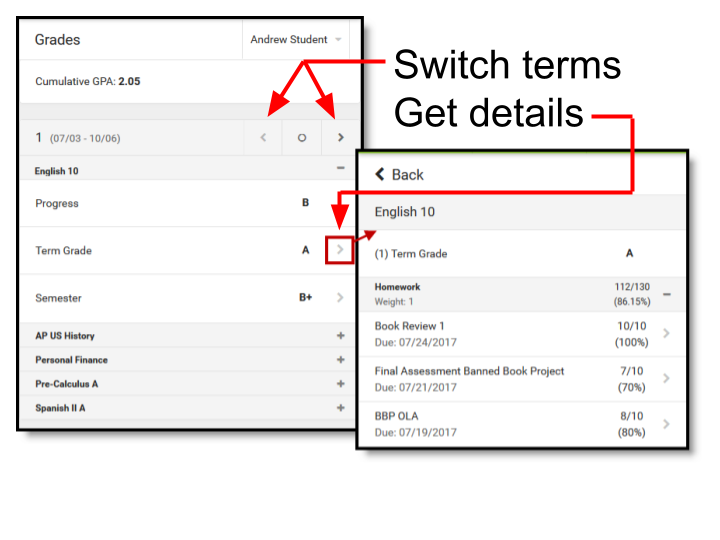 Where the grey arrow displays for a task or standard, click the task to view the Categories that contribute to the grade. Expand categories to view all included assignments. Click assignments to view details. Grade Book Updates lists all of the assignments that have been scored or otherwise updated in the last 14 days.
Q: Where do I find progress reports and report cards?
A: This year we will not be printing and mailing home progress reports. Throughout the year we will email reminders to log into the Parent Portal and review your child's grades using the Grades tool. Parents and guardians are encouraged to review this information regularly. Report cards will be run at the end of each semester. The most recent report card is available in the Documents tool.
Q: Where do I find transcripts?
A: Official transcripts are requested via Parchment. See our Transcripts page for more information. Unofficial transcript reports are coming to the Portal soon. In the meantime a similar report is available in the Academic Plan tool. After opening the Academic Plan tool, click Next to continue to the plant progress page. Click on the Progress Report button to open the report options. Change the Report Type to Detail. Then, check the Credit Type Details option below. This will list all classes taken, with grades earned or in progress. Alternatively, you may check the Select All option to get more details.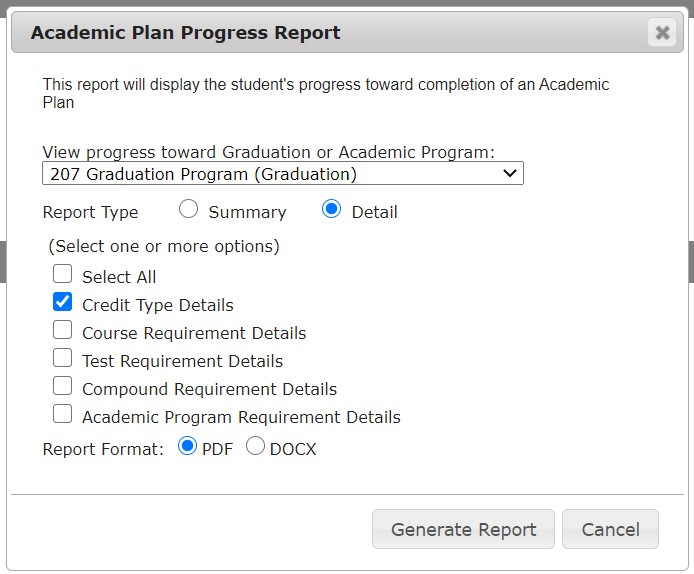 Click Generate Report. The Academic Plan Progress Report will open in a new window. GPAs are found on the most recent report card (see above), or on the More > M207 GPAs page.
Q: What are notifications? How do I set up notifications?
A: Notifications for graded assignments, class grade updates, and attendance updates are available for parents and guardians. Notification settings can be found by clicking on the user menu in the top right of the page and selecting Settings.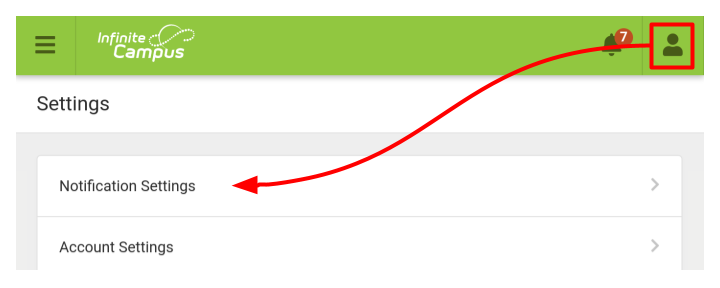 These settings allow parents and guardians to opt out of receiving the above mentioned notifications and establish thresholds for those they want to receive. Set thresholds to only receive notifications when a grade or score falls below the selected percentage. Click the arrows to change the threshold or click and drag the dot.
Q: Where do I find my child's fees?
A: The Fees tool provides a list of all fees assigned to a student. Fees can include things like a mandatory school fee, a materials fee for a course, a cap and gown fee for graduation, or the cost of an athletic activity. Fees that are still owed, have been paid, or were made void appear in this list, followed by the ongoing balance for these fees.
Q: How do I pay for my child's fees?
A: To submit online payments, open the More tool and select WEB STORE. This will launch the District 207 Web Store. Follow the RevTrak Payment Guide to complete online payments of any fees with a credit card or e-check. Fees may also be paid in person by cash, check, or credit card in the School Store. Checks may also be mailed to the School Store:
Maine East
School Store
Maine South
School Store
Maine West
School Store
2601 Dempster St
Park Ridge, IL 60068
847-692-8357
1111 S Dee Rd
Park Ridge, IL 60068
847-692-8201
1755 S Wolf Rd
Des Plaines, IL 60018
847-803-5878
Q: How do I update my information?
A: Please contact your school's Student Services Department to update your information: